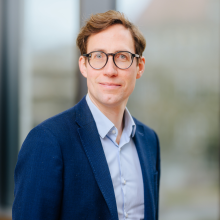 Office Address:

Hornsche Str. 39
32756 Detmold

Room:
Sprechzeiten:
nach Vereinbarung
Dominik Höink (geb. 1981) studierte Musikwissenschaft, Psychologie und katholische Theologie in Münster (2000–2005) und wurde ebendort 2009 mit einer Arbeit über die Rezeption der Kirchenmusik Anton Bruckners promoviert. Während der Promotion arbeitete Herr Höink in einem kirchenhistorischen DFG-Projekt zu Römischer Inquisition und Indexkongregation in der Neuzeit (2005–2008). Von 2008 bis 2018 leitete er das musikwissenschaftliche Forschungsprojekt "Politisch-nationale Stoffe und geistlich-religiöse Form. Das Oratorium vom 18. bis 20. Jahrhundert" im Exzellenzcluster "Religion und Politik" der WWU Münster. Im Rahmen dieses Projekts habilitierte sich Herr Höink 2018 mit der Arbeit "Oratorium und Nation, 1914–1945. Studien zur Politisierung religiöser Musik in Deutschland". 2013 war Dominik Höink Vertretungsprofessor (Visiting Academic) am South African College of Music der University of Cape Town. Von 2017 bis 2021 war er als Vertretungsprofessor an der Folkwang Universität der Künste in Essen tätig. Seit Oktober 2021 ist er Professor für Musikwissenschaft am Musikwissenschaftlichen Seminar Detmold/Paderborn.
2011 wurde Dominik Höink in das "Junge Kolleg" der Nordrhein-Westfälischen Akademie der Wissenschaften und der Künste aufgenommen. 2014 wurde er für seine Forschungen mit dem Internationalen Händel-Forschungspreis ausgezeichnet sowie 2019 mit dem Hermann-Abert-Preis der Gesellschaft für Musikforschung.
Herr Höink ist stellvertretender Sprecher der Fachgruppe Kirchenmusik in der Gesellschaft für Musikforschung.
Current Courses
Tutorium zur Vorlesung Musikgeschichte I
Orientierung im Studium - Musikwissenschaft
Notation und Edition älterer Musik
Musikgeschichte I: Vorbereitung des Tutoriums
Musikgeschichte I
Musik der Renaissance
Musik - Religion - Global (Ringvorlesung mit Seminar)
Aktuelle musikwissenschaftliche Forschung (Forschungskolloquium)