Advisory Board
The 3rd Advisory Board of Paderborn University (from left to right) Prof. Dr. Rita Burrichter, Dr. Vera Denzer, Ralf Göttel, Vorsitzende Dr. Dagmar Simon, Prof. Dr. Jürgen Brautmeier, Prof. Dr. Martina Schraudner, Dr. Hans-Gerhard Husung, Prof. Dr. Friedhelm Meyer auf der Heide and former member Prof. Dr. Bettina Schiller. (Photo: Paderborn University, A. Rutenburges 2018)
The Advisory Board advises and oversees the University Executive Board according to § 21 Higher Education Act of NRW. As the central governing body, it has to approve certain strategic decisions made by the Executive Board. It further provides statements and expresses recommendations in matters related to research, art, teaching and studying that are of importance to the entire university, central organizational units or of general concern. Furthermore, the Ministry for Culture and Science NRW has delegated some of the responsibility as the highest service authority to the Advisory Board. The Advisory Board of Paderborn University consists of nine members.
Prof. Dr. Jürgen Brautmeier
Vice-chairman of the Advisory Board,
Vice-president of the Media Council of East-Belgium,
Honorary professor at Heinrich Heine University Düsseldorf.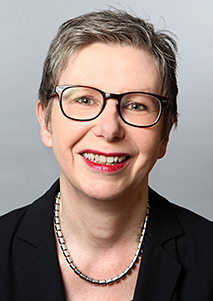 Prof. Dr. Rita Burrichter
Professor of Practical Theology at the Institute of Catholoic Theology of Paderborn University.
Dr. Hans-Gerhard Husung
Former State Secretary for Science and Research, Senate Departement for Education, Science and Research, Berlin (2004-2010).
Former Secretary-General of the Joint Science Conference of the Federation and the Federal States (GWK), Bonn (2011-2016).
Prof. Dr. math. Friedhelm Meyer auf der Heide
Professor of Theoretical Computer Sciences at the Faculty of Computer Science, Electrical Engineering and Mathematics at Paderborn University, chairmen of the Board of the Collaborative Research Centre (SFB 901) "On-The-Fly Computing", member of the German National Academy of Sciences (Leopoldina) and the North Rhine-Westphalia Academy of Sciences and Arts.
Prof. Dr. Christine Silberhorn
Professor for Integrated Quantum Optics, member of the German National Academy of Sciences (Leopoldina), member of the North Rhine-Westphalian Academy of Sciences, Humanities and the Arts.