Paul Duschner, M.A.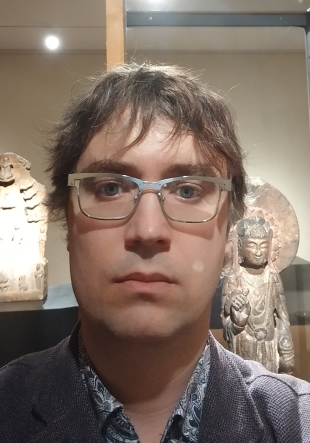 Fakultät für Kulturwissenschaften > Historisches Institut > Materielles und Immaterielles Kulturerbe
Research Associate
Office hours:
Montags im Anschluss an die Lehrveranstaltung sowie nach Absprache Montags bis Donnerstags
Lehrveranstaltungen

Sammler, Sammlungen, Sammlungsgeschichten (Grundseminar, WiSe 2018/19)

Konfliktfeld Ausstellung! (Proseminar, SoSe 2019)

Immaterielles Kulturerbe: Auffindung, Erhaltung, Inwertsetzung (Proseminar, WiSe 2019/20)

Sammeln und Ausstellen am Beispiel ostasiatischer Kunst (Proseminar, digital, SoSe 2020)

Einführung in die Kunst- und Kulturgeschichte (Einführungsseminar, digital, WiSe 2020/21)

Zwischen Skandal und Sachquelle: Die Fälschung in Kunst, Museum und Wissenschaft (Proseminar, digital, SoSe 2021)

Einführung in die Kunstgeschichte: Gegenstände, Methoden, Ausstellungen (Einführungsseminar, WiSe 2021/2)

Introduction to cultural heritage (Einführungsseminar, SoSe 2022)

Japonisants and Old China Hands - Appropriating East Asia in the Long Nineteenth Century (Proseminar, geplant für WiSe 2022/23)

Das Objekt als Quelle und Exponat (Einführungsseminar, geplant für WiSe 2022/23)

Mitgliedschaften

Deutsche Gesellschaft für Ostasiatische Kunst

Verein für Geschichte an der Universität Paderborn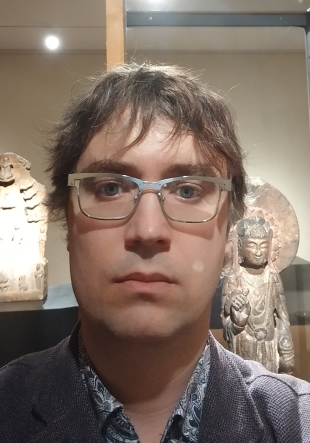 01.10.2018 - today

Wissenschaftlicher Mitarbeiter am Lehrstuhl für Materielles und Immaterielles Kulturerbe

15.02.2018 - 15.08.2018

Stadtschreiber-Stipendiat des Vereins für Geschichte an der Universität Paderborn

Projekt zur Rezeption der Paderborner Museumslandschaft durch die einheimische Bevölkerung und touristische Besucher mit Schwerpunkt auf dem Stadtmuseum Paderborn, dem Heinz-Nixdorf-MuseumsForum und dem Museum in der Kaiserpfalz. Abschlussvortrag "Paderborn hinter Glas. Stadtgeschichte im Museum" am 1.8.2018 im Stadtmuseum Paderborn.

09/2009 - 03/2018

Studium

2009 - 2015 Studium der Mittelalterlichen Geschichte (HF), der Neueren und Neusten Geschichte (NF) und der Englischen Literaturwissenschaft (NF) an der Ludwig-Maximilians-Universität, München. 2014 Abschluss als Magister Artium und 2015 mit dem 1. Staatsexamen (vertieft) in Geschichte und Englisch.

2015 - 2018 Studium M.A. Kulturerbe an der Universität Paderborn mit Auslandssemester an der Universität Le Mans und Projektphase am Lippischen Landesmuseum, Detmold.
Monographie

Afrikanische Masken und Skulpturen der Sammlung Karl-Josef Scheideler des Lippischen Landesmuseums Detmold. Oppenheim a. Rhein 2021.

Aufsätze

Die Huixian-Figuren: über materielle und immaterielle Aspekte einer Kunstfälschung. In: Maria Harnack, Paul Duschner, Marco Silvestri (Hrsg.): Im-Materiell. Kulturerbe-Studien für Eva-Maria Seng zum 60. Geburtstag. Berlin, Boston 2022, S. 105-119.

Spuren des Kolonialismus in der Airport Art: Vier Beispiele aus Westfalen. In: Barbara Frey, Sebastian Bischoff, Andreas Neuwöhner (Hrsg.): Koloniale Welten in Westfalen. Paderborn 2021, S. 271-289.

Ostasiatika in Paderborn: Zur Sammlung Sigrid Tenge-Erb und Richard Erb. In: Paderborner Historische Mitteilungen 33 (2020), S. 55-65.

Vom Sammeln und Ausstellen ostasiatischer Kunst: das Beispiel des Ehepaars Adolf und Frieda Fischer. In: Paderborner Historische Mitteilungen 32 (2019), S. 116-136.

Exponate und Ausstellungen in den Augen ihrer Besucher. Vier Beobachtungen aus der Stadtschreiberei Paderborn. In: Paderborner Historische Mitteilungen 31 (2018), S. 32-49.

Tagungsberichte, Zeitungsartikel, Buchbesprechungen etc.

27. Regionalgeschichtstagung: Mythos und historische Wahrheit – ein prekäres Verhältnis. In: Paderborner Historische Mitteilungen 33 (2020), S. 111 - 115.

Kat.-Nr.23. Nigerianische Helmmaske. In: Landschaftsverband Westfalen Lippe (Hrsg.): Geschichte der Dinge. Zur Herkunft der Objekte in nordrhein-westfälischen Sammlungen. Münster 2020, S. 192 - 194.

Alles unter dem Himmel - Das Museum für Ostasiatische Kunst in Köln. Köln 2019. Hrsg. Museum für Ostasiatische Kunst Köln. Texte von Adele Schlombs, Christel und Dieter Schürzeberg, Helwig Schmidt-Glintzer, u.a. In: Ostasiatische Zeitschrift, Neue Serie 39 (2020), S. 50 - 52. [Buchbesprechung]

mit Lena Elster: StadtGemeinsamkeiten: Immaterielles Kulturerbe im urbanen Raum, 09.07.2019 Dortmund, in: H-Soz-Kult, 17.01.2020, <www.hsozkult.de/conferencereport/id/tagungsberichte-8598>.

26. Regionalgeschichtstagung: Tafeln und Speisen, Essen und Schlemmen – regional oder global? In: Paderborner Historische Mitteilungen 32 (2019), S. 144 - 151.

Museen sollen viele Geschichte erzählen. In: Neue Westfälische / Paderborn, 21.08.2018.

Neuer Zugang zur Geschichte. In: Neue Westfälische / Paderborn, 17.07.2018. (Überlegungen zum neuen Stadtmuseum, Paderborn)

Was Museumsbesucher sagen. In: Neue Westfälische / Paderborn, 05.06.2018.

Wie Handys ins Museum kamen. In: Neue Westfälische / Paderborn, 10.4.2018. Im Internet: www.nw.de/lokal/kreis_paderborn/paderborn/22108420_Warum-der-neue-Stadtschreiber-Besucher-im-Computermuseum-befragt.html