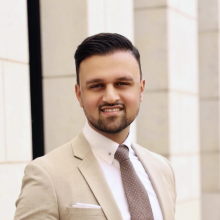 Jun.-Prof. Dr. Idris Nassery
Juniorprofessor für Islamische Rechtswissenschaften
Office Address:

Technologiepark 6
33100 Paderborn

Room:
Sprechzeiten:
Sprechstunde nach vorheriger Anmeldung per E-Mail dienstags von 11-12 Uhr möglich.
Seit Oktober 2019 leitet Idris Nassery den Fachbereich "Islamische Normlehre" und seit Oktober 2021 ist er als Juniorprofessor für Islamische Rechtswissenschaften am Paderborner Institut für Islamische Theologie (PIIT) der Universität Paderborn tätig.
Idris Nassery studierte an der Universität Bielefeld Rechtswissenschaften und Wirtschaftswissenschaften und hat 2019 das Rechtsreferendariat am Oberlandgericht Düsseldorf als Volljurist abgeschlossen.
Zwischen 2013 und 2019 war er im Rahmen des Excellenz-Programms der Mercator Stiftung Stipendiat am Graduiertenkolleg Islamische Theologie sowie als wissenschaftlicher Mitarbeiter an der Universität Paderborn beschäftigt und schloss 2017 seine Promotion zum Verhältnis von Recht und Ethik im Denken von Abu Hamid Muhammad Al-Ghazali ab. Darüber hinaus studierte er als Stipendiat an der School of Oriental and African Studies (SOAS, University of London) Islamisches Recht und Rechtsvergleichung und schloss dies mit dem Abschluss Master in Islamic Law (LL.M.) ab. Zusätzlich ließ sich Nassery an der London School of Economics als Certified Agent in "Islamic Banking and Finance" ausbilden. Danach durchlief er als Stipendiat im Rahmen des Sonderprogramms "Master in classical Islam" (M.A.) an der University of Johannesburg (Südafrika) die Kerndisziplinen Islamischer Jurisprudenz und der arabischen Sprache. Hierauf folgten zahlreiche Forschungs- und Sprachaufenthalte u. a. an der University of Oxford, in Kairo (Al-Azhar University), Doha (Hamad bin Khalifa University) und Beirut (Saint-Josef-University).
Idris Nassery ist seit 2022 Mitgründer und ehrenamtlicher Vorsitzender des Institute for Law and Society in Afghanistan e.V. (ILSAF).
Curriculum Vitae
Since 2021: Juniorprofessor des Lehrstuhls für Islamische Rechtswissenschaft am Paderborner Institut für Islamische Theologie
Since 2019: Leiter des Fachbereichs "Islamische Normenlehre" am Seminar für Islamische Theologie der Universität Paderborn
2017 - 2019: Rechtsreferendariat am Landgericht Paderborn mit Stationen in Heidelberg, Berlin und Genf
2017: Promotion zum Verhältnis von Recht und Ethik im Denken von Abu Hamid Muhammad Al-Ghazali
2012 - 2017: Stipendiat am Graduiertenkolleg Islamische Theologie des Excellenz-Programms der Mercator Stiftung
Research Interests
Islamische Rechtswissenschaften
Rechtsvergleichung
Islamische Rechtsgeschichte und Rechtsphilosophie
Islamic Banking and Finance
Islamtheologische Zugänge einer Wirtschaftsethik
Islam in Afghanistan und die Taliban-Ideologie
Current Courses
Praktikum - Komparative Theologie der Religionen
Gott und Steuern: Eine Reise durch die Geschichte von Recht und Religion
Gott und Steuern: Eine Reise durch die Geschichte von Recht und Religion
Das Gebet im Islam: Eine Einführung in Theorie und Praxis