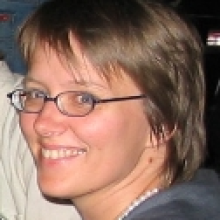 E-Mail

Phone:

ORCID:

Web:
Transregional Collaborative Research Centre 318
Member - Professor
Key research area Transformation and Education
Professor
E-Mail

Phone:

ORCID:

Web:
My work focuses on basic research, and I particularly enjoy working in interdisciplinary contexts. I am trained in the dsiciplines of psychology, philosophy, and education. I use both quantitative (experimental psychology, modeling) and qualitative methods (metaphor research) and also work on questions of history and theory of psychology.
Research Interests
Experimental psychology

visuo-spatial attention
modeling of cognitive processes
Psychology of explaining/explainability

Qualitative research

metaphors
disciplinary cultures

Theory and history of psychology
Didactics

science didactics, science propaedeutics, college education
psychology teaching
writing education, writing in psychology, writing across the curriculum
discipline-sensitive didactics in higher education
Teaching Areas
experimental and cognitive psychology
psychology for future teachers
psychology for students of informatics
critical thinking in psychology
Current Courses
Menschliche und künstliche Intelligenz: Was müssen wir darüber wissen und womit müssen wir uns auseinandersetzen?
Einführung in die Psychologie
Einführung in die Bildungswissenschaften: Vertiefungsseminar Motivation
Einführung in die Bildungswissenschaften - Grundschule
Additional Activities
I run the Writing Center at the University of Paderborn, which supports students in academic writing (and staf in teaching writing).
In addition, I offer workshops and lectures on higher education didactics. Among them are the following topics:
Dealing with plagiarism - Teaching attitudes toward scholarly writing and reading.
Reading scientific texts with students
Giving feedback on student texts
Writing in the dsiciplines
Dealing with peer reviews
Reflecting and designing teaching with metaphors
All workshops are offered for a wide variety of disciplines (and gladly together for different disciplines) and are designed to be discipline-sensitive.
In the field of transfer, my current focus is on further training for psychology teachers and the development of teaching materials for psychology classes at schools.
Mitgliedschaften
Deutsche Gesellschaft für Psychologie, Fachgruppe Allgemeine Psychologie (DGPs)
Gesellschaft für Schreibdidaktik und Schreibforschung (gefsus)
The European Society of Psychology Learning and Teaching (ESPLAT)
Fellow in der Community of Professionals von Lehre-hoch-n
LehreN Netzwerk e.V.
Nice things and oddities
I was born in 1967, have a daughter and live in the almost northern part of southern East Westphalia, that is, in the middle of the world, though deep in the countryside. I am involved in the preservation of rural areas and the Interessengemeinschaft Bauernhaus. I love Jane Austen und Herman Melville and often wonder why, try to smuggle quotes of them into documents of any kind and try to promote the appreciation of nonsense within academia. If I had more time, I would spend it spinning and weaving. And reading.