Dr. Marion Rose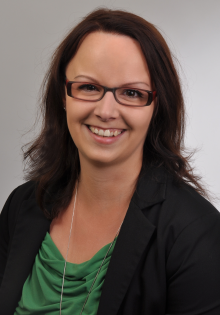 Institut für Katholische Theologie > Praktische Theologie
Research Associate - Fachstudienberatung
Office hours:
In der Regel: Donnerstag, 16 - 18 Uhr.
Bitte melden Sie sich dazu per Mail an.
Visitor:
Pohlweg 55
33098 Paderborn
Akademischer Werdegang und Tätigkeit

Marion Rose studierte die Unterrichtsfächer Katholische Theologie, Geschichte und Pädagogik (für Gy/Ge) und arbeitet aktuell als Wissenschaftliche Mitarbeiterin an der Universität Paderborn im Bereich Praktische Theologie/Religionspädagogik. Zudem hat sie die Fachstudienberatung Lehramt inne.

Sie promovierte sich am 06.09.2018 zum Dr. phil. mit einer Arbeit, die sich mit wissenschaftstheoretischen Fragestellungen der Praktischen Theologie auseinandersetzt (Erstgutachten/ Betreuung: Prof. Dr. Rita Burrichter; Zweitgutachten: Prof. Dr. Dr. Oliver Reis). Hier plädiert sie unter Bezugnahme auf alteritätsphilosophische Gedankengänge für ein intensiviertes Gespräch des Fachs mit der Geschichte.

Derzeit beschäftigt Marion Rose sich im Rahmen einer weiteren Qualifikationsarbeit mit dem Zueinander der Faktoren von Macht, religiöser Bildung und Digitalisierung (Betreuung: Prof. Dr. Herbert Haslinger; Prof. Dr. Rita Burrichter).

Forschungsinteressen und Arbeitsschwerpunkte

Ästhetikund religiöse Bildung: Kulturelle Phänomene in ihrer Eigenart und theologischen Relevanz (v.a. Musik und Religion)
Grundlagen- und Wissenschaftstheorie der Praktischen Theologie und Religionspädagogik
Alteritätstheorie und Theologie: Suche nach Konzepten einer adäquaten Auseinandersetzung mit dem "Anderen", dem "Fremden"
Digitalisierung religiöser Kommunikation
Machtin Gesellschaft und Religion

Lehrveranstaltungen

Digitalisierung – nötiges Update oder problematisches Upgrade religiöser Kommunikation? (WiSe 2020/21, WiSe 2021/22)
Einführung in die Religionsdidaktik (WiSe 2012/13 - WiSe 2014/15)
Einführung in das Wissenschaftliche Arbeiten (SoSe 2015)
Einführung in das Wissenschaftl. Arbeiten in der Kath. Theologie (WiSe 2019/20 - SoSe 2021; betreuend WiSe 2016/17- SoSe 2019)
Gott und die Welt »erörtern«. Oder: Ein religiöser Lernortwechsel in Alltag und Umgebung (SoSe 2021)
»Mehrsprachigkeit« Religion (SoSe 2020)
Religion in der Region (SoSe 2012, SoSe 2013)
»Sound is my religion«: Kirchenmusik als Resonanzraum (WiSe 2019/20)
»UnBeatable«: Musik und Praktische Theologie (SoSe 2019)

Tagungsmitwirkung, -organisation und -leitung

Katastrophen. Religiöse Bildung angesichts von Kriegs- und Krisenerfahrungen im 19. und 20. Jahrhundert.

Neunzehnte Tagung des "Arbeitskreises für historische Religionspädagogik" vom 22.-24.02.2022/Universität Paderborn; Tagungsleitung zusammen mit: Dr. Richard Janus, Dr. Naciye Kamcili-Yildiz und Prof. Dr. Harald Schroeter-Wittke; Publikation ist vorgesehen.

Follow me. Zur Bedeutung der Lehrenden in religiösen Lernprozessen in Schule und Gemeinde.

Religionspädagogische Jahrestagung des "dkv – Fachverband für religiöse Bildung und Erziehung" vom 25.-28.09.2014/Liborianum – Bildungs- und Gästehaus des Erzbistums Paderborn; Liturgiekreis mit Prof. Dr. Agnes Wuckelt.

Vorträge

»Soundcheck für die 'letzten' Dinge – Eschatologische Motive in der Musik« (Studientag des Instituts für Kath. Theologie, Universität Paderborn, Jan. 2011)
Geschlechterbilder im Christentum« (Thementag des Zentrums für Genderstudien, Universität Paderborn, Mai 2011)
»Musik und Religion« (Aktionstag »Los geht's« der Marienschule Lippstadt, Okt. 2011)
»We may be plastic, but our love is real« (Ringvorlesung »Musik in Religion – Religion in Musik« des Instituts für Ev. Theologie, Universität Paderborn, Jan. 2012)

Weiterbildungen

Seit Sept. 2021: Teilnahme am Zertifikatsprogramm "Professionelle Lehrkompetenz für die Hochschule"; Universität Paderborn.

Weitere Qualifikationen und Auszeichnungen

Abgeschlossene C-Ausbildung zur Kirchenmusikerin, Referat für Kirchenmusik des Erzbistums Paderborn
Graduiertenstipendiatin im Bereich der Genderforschung der Universität Paderborn (bis 2012)

Wissenschaftliche Mitgliedschaften

Arbeitsgemeinschaft für Pastoraltheologie
Arbeitsgemeinschaft Katholische Religionspädagogik und Katechetik (AKRK)
Deutscher Katecheten-Verein e.V. - Fachverband für religiöse Bildung und Erziehung (DKV)
European Society of Women in Theological Research (ESWTR)

 
Veröffentlichungen

Rose, Marion: Die UnVollendete: Tradition in praktisch-theologischer Neuinszenierung – eine wissenschaftstheoretische Note. Paderborn 2018; zugleich: Paderborn, Univ. Diss. 2018. (629 S.).

Links zum Volltext: http://nbn-resolving.de/urn:nbn:de:hbz:466:2-32001 oder http://dx.doi.org/10.17619/UNIPB/1-442

 

Burrichter, Rita/ Rose, Marion: Barbiecue. Eine fröhlich generationelle Veranstaltung zur Zubereitung des Geschlechterverhältnisses mit Musik, in: Keuchen, Marion u.a. (Hrsg.): Musik in Religion – Religion in Musik. Jena 2013, 49-61.