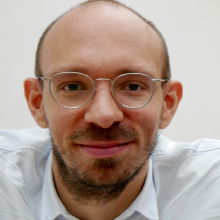 Office Address:

Warburger Str. 100
33098 Paderborn

Room:
Sprechzeiten:
Office hours also take place during semester breaks as Skype office hours on Tuesdays from 5:30 to 6:30 pm.
Please register in advance by e-mail.
If I am online, you can also contact me on other days of the week. My Skype name is Ben Uhl, the ID live:.cid.c7fe7670642819ac
Note: If I do not answer directly, I am talking to other students on skype; in that case, stay online and I will call you back.
For inquiries regarding student advising, feel free to send an e-mail.
1) Forschungsschwerpunkte
Scaffolding und adaptiver Deutschunterricht
Literalitäts- und Literaritätserwerb
Inklusiver Sprachunterricht und Diversität
Sprachreflexion und Mehrsprachigkeit
Grammatik/Grammatikdidaktik
Schreibentwickung und basaler Schrifterwerb
Erzählen/Erzähldidaktik
Orthographie/Orthographiedidaktik
Registerkompetenz: Fach- und Bildungssprache
Konstruktionsgrammatik und Musterhaftigkeit von Sprache
Methoden: Inhaltsanalyse (quantitativ/qualitativ); Design-based research (DBR)
2) Aktuelle Forschungsprojekte
Ringbuchprojekt: Topalovic, Elvira; Uhl, Benjamin (Hrsg.): Deutsch lernen: Hören – Sprechen – Lesen – Schreiben. Basale Sprachfähigkeiten (Ringbuch 1). Paderborn: Schöningh. (erscheint voraussichtlich 09/2017)
ProFis (= Protoliterale Fähigkeiten in inklusiven Kontexten stärken)
3) Hinweise für Prüfungen und Bachelorarbeiten
Sie können gerne bei mir eine Bachelorarbeit schreiben. Zur Themenabsprache kommen Sie in die Sprechstunde. Bringen Sie eine Übersicht über bei mir besuchte Veranstaltungen mit.
Wenn Sie eine Hausarbeit/Modulabschlussarbeit schreiben möchten, haben Sie bis Ende der nächsten Vorlesungszeit Zeit dafür. Das heißt konkret:
Wenn Sie ein Seminar im Wintersemester besuchen, können Sie die Arbeit bis Mitte Juli abgeben;
wenn Sie ein Seminar im Sommersemester besuchen, haben Sie bis Anfang Februar Zeit, die Arbeit abzugeben.
Bei inhaltlichen Fragen zu Bachelorarbeiten, Hausarbeiten und Prüfungen (schriftlich/mündlich) kommen Sie gerne in meine Sprechstunde. Über E-Mail kläre ich inhaltliche Fragen nur sehr ungerne, da es wichtig ist, dass Sie alleine denken (wobei ich Sie bei Bedarf gerne unterstütze - das geht am besten in Sprechstunden und nicht per E-Mail).
Ich nehme sowohl schriftliche als auch mündliche Examensprüfungen ab, und zwar vornehmlich in der Sprachdidaktik. InterneAnmeldungen für Examensprüfungen erfolgen ebenfalls in meiner Sprechstunde.
Als PRÜFUNGSBEREICHE können Sie wählen:
•Grammatik bzw. Grammatikdidaktik
•Orthographie bzw. Orthographiedidaktik
•Schriftspracherwerb
•Diagnose und Förderung von Erzählkompetenz