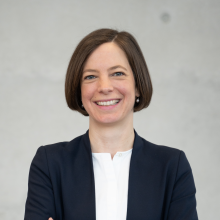 Office Address:

Warburger Str. 100
33098 Paderborn

Room:
Sprechzeiten:
Nach Vereinbarung; bitte senden Sie eine E-Mail.
Prof. Dr. Eva Böhm ist seit April 2023 Inhaberin des Lehrstuhls für BWL, insb. Marketing und Value Creation an der Universität Paderborn. Zuvor war sie Inhaberin der Juniorprofessur Marketing an der Technischen Universität Dortmund. Ihre wissenschaftliche Laufbahn begann Eva Böhm an der Universität Paderborn, wo sie zunächst Wirtschaftswissenschaften studierte und anschließend als wissenschaftliche Mitarbeiterin und Akademische Rätin am Lehrstuhl für BWL, insb. Marketing tätig war. In diesem Zeitraum verbrachte Eva Böhm einen mehrmonatigen Forschungsaufenthalt an der University of Missouri, USA, für den sie ein Stipendium der Deutschen Forschungsgemeinschaft (DFG) erhielt. Außerdem nahm sie zwei Elternzeiten in Anspruch.
Die Forschung von Eva Böhm lässt sich an der Schnittstelle von Industriegütermarketing, Strategischem Marketing und Dienstleistungsmarketing einordnen. Aktuelle Forschungsprojekte behandeln bspw. das Vertriebsmanagement für industrielle Dienstleistngen und Lösungen, die Effektivität von Online Reviews, sowie das Management von Produktretouren. Ihre Forschungsergebnisse wurden in hochrangigen, internationalen Zeitschriften veröffentlicht (u.a. Journal of the Academy of Marketing Science, Journal of Product Innovation Management und Journal of Service Research) und mehrfach mit Best-Paper-Awards ausgezeichnet. Darüber hinaus war Prof. Böhm an der Einwerbung und Durchführung verschiedener drittmittelgeförderter Forschungsprojekte federführend beteiligt (u.a. gefördert durch die Deutsche Forschungsgemeinschaft (DFG) und das Institute for the Study of Business Markets (ISBM)).
Curriculum Vitae
Since 04/2023: Inhaberin des Lehrstuhls für Betriebswirtschaftslehre, insb. Marketing und Value Creation, Universität Paderborn
04/2020 - 03/2023: Inhaberin der Juniorprofessur Marketing (mit Tenure Track), Technische Universität Dortmund
01/2019 - 03/2022: Projektleiterin im DFG-Forschungsprojekt "Strategic transformation to value-centred business models", gemeinsam mit Andreas Eggert
04/2020 - 09/2021: Elternzeit
04/2013 - 03/2020: Akademische Rätin auf Zeit und Habilitandin, Lehrstuhl für Betriebswirtschaftslehre, insb. Marketing, Universität Paderborn
03/2016 - 02/2017: Elternzeit
10/2007 - 03/2013: Wissenschaftliche Mitarbeiterin und Doktorandin, Lehrstuhl für Betriebswirtschaftslehre, insb. Marketing, Universität Paderborn
02/2013: Promotion zum Doktor der Wirtschaftswissenschaften (Dr. rer. pol.), Fakultät für Wirtschaftswissenschaften, Universität Paderborn
10/2002 - 09/2007: Studium der Wirtschaftswissenschaften, Fakultät für Wirtschaftswissenschaften, Universität Paderborn
Current Courses
Übung: Grundlagen der Marketingforschung
Übung: Business-to-Business Marketing
Marketing
Grundlagen der Marketingforschung
Business-to-Business Marketing
Auszeichnungen
2020: Best Paper Award der AMA Winter Academic Conference für den Beitrag "Do product testing programs lead to more favorable online reviews?" (gemeinsam mit Ina Garnefeld, Tabea Krah und Dwayne D. Gremler)
2018: Best Paper Award des Journal of Strategic Contracting and Negotiation für den Beitrag "Understanding outcome-based contracts: Benefits and risks from the buyers' and sellers' perspective" (gemeinsam mit Christof Backhaus,
Andreas Eggert, Tyrone Pitsis und Tim Cummins)
2017: Best Paper Award der AMA Winter Academic Conference für den Beitrag "Managing the necessary evil: Can payment methods reduce product returns" (gemeinsam mit Ina Garnefeld und Lena Feider)
2016: Best Paper Award der AMA Winter Academic Conference für den Beitrag "Understanding service awards: Exploit the bright side, avoid the dark side" (gemeinsam mit Andreas Eggert und Christina Cramer)
2013: Auszeichnung für herausragende Promotionen verliehen vom Paderborner Hochschulkreis e.V., der Alumnivereinigung der
Fakultät für Wirtschaftswissenschaften an der Universität Paderborn
2012: Best Paper Award der AMA Winter Academic Conference für den Beitrag "Growing with industrial services – A configurational
approach" (gemeinsam mit Andreas Eggert und Christoph Thiesbrummel)
2011: Best Overall Conference Paper Award der AMA Winter Academic Conference für den Beitrag "Assessing the long-term effect of industrial services on firm profitability: The moderating impact of product innovations" (gemeinsam mit Andreas Eggert, Jens Hogreve und Wolfgang Ulaga)