Introduction to Linguistics (E-Tutoren)
Die Veranstaltung Introduction to Linguistics vermittelt die Grundlagen der englischen Sprachwissenschaft. Die Festigung und Illustration der Inhalte erfolgt durch zahlreiche Anwendungsbeispiele. Hier greift das E-Learning Angebot mit der Möglichkeit zusätzliche Selbsttests in Moodle zu bearbeiten.
Tags: E-Learning, E-Tutoren, Illustration, Unterstützungsangebot, Moodle, Selbsttest, Anglistik
Beschreibung

Den Studierenden wird eine ergänzende Möglichkeit zur Anwendung und Wiederholung abseits der Veranstaltungs- und Übungstermine geboten. Im Rahmen der Prüfungsvorbereitung leisten die Selbsttests einen Beitrag zur Einschätzung des eigenen Lernerfolgs. Diese Zielsetzung findet in der Ausarbeitung eines extensiven Fragenkatalogs und den hieraus zufällig ausgewählten Testfragen seine Konkretisierung. Die zufällige Generierung der Tests ermöglicht eine wiederholte Bearbeitung durch den Einbezug varierender Fragen. Die Lerner*innen profitieren von den durch das Projekt geschaffenen Mehrwerten: Exemplarisch sei hier auf die zeitliche und räumliche Unabhängigkeit sowie die Berücksichtigung individueller Lernwege und Lerngeschwindigkeiten hingewiesen.
Eine vielversprechende Entwicklungsperspektive stellt die gezielte Ergänzung der Fragen mit automatisiertem Feedback dar. So können die Chancen auf die Erzielung anhaltender Lernerfolge durch die selbstständige Arbeit mit den Selbsttests noch verbessert werden. Im weiteren Verlauf des Projekts sind auch die in Moodle implementierten Evaluationsmöglichkeiten von Interesse, um problematische Fragen und Themengebiete zu identifizieren und gegebenenfalls Anpassungen vorzunehmen, um die Qualität der Lehre weiter zu verbessern. Die hier angerissene perspektivische Darstellung ist im Kontext der geplanten Wiederverwendung des Fragenkatalogs zu verstehen und bezieht sich daher auch auf den Zeitraum nach der "akuten" Phase des Projekts bzw. auf die Erarbeitung eines Grundstocks an Fragen.

Weitere Daten

Bereich: Angsitik & Amerikanistik

Veranstaltungstitel: Introduction to Linguistics

E-Dozent: Dr. Markus Freudinger

E-Tutor: Tobias Bong

Rahmenbedingung: Vorlesung, ab 100 Teilnehmer*innen und Anschlussseminar, 40 - 100 Teilnehmer*innen
Contact
Institut für Anglistik und Amerikanistik > Linguistik - Bereich Prof. Mindt

Beratung zum und Anerkennung des 3-monatigen Auslandsaufenthalts im B.Ed., Fachstudienberatung Zwei-Fach BA Englische…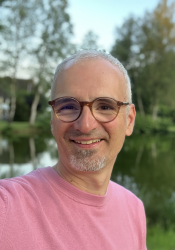 Office hours:
Note: Currently, my office hours take place via Zoom or phone. Please send me an email first and we will sort out details (such as time etc.). Only call me if we agreed on a date.
Next office hours:
Tuesday, 28.9., 8:30-10 am
Thursday, 7.10., 8:30-10 am
Notice for the obligatory stay abroad: Register in... more