Key research area "Sustainable Materials, Processes and Products"
Climate protection and resource conservation is a central task of our society. Science and engineering can contribute by working on solutions for sustainable products in the field of new materials (metals, polymers and the combined hybrids), material-specific design, joining and manufacturing technologies and specific production and simulation processes.
To cover this vast spectrum of research, Paderborn University bundles interdisciplinary research in mechanical engineering and natural sciences faculties in its "Sustainable Materials, Processes and Products" research area.
Key technology lightweight design
Lightweight design is a key technology that offers huge resource-saving potential, in particular through combining state-of-the-art (production) techniques with high functionality.
Cross-faculty project teams at the Institute for Lightweight Design with Hybrid Systems (ILH) and Paderborn Institute for Additive Manufacturing (PIAF) conduct research into this complex topic.
Key technology additive manufacturing
Additive manufacturing is a key technology that can directly translate evolution through Industry 4.0 into reality. Through design freedom, it enables the creation of customised, resource-efficient and function-optimised lightweight structures.
At the PIAF and Direct Manufacturing Research Centre (DMRC), cross-faculty project teams collaborate with industry on research aimed at establishing additive manufacturing processes as robust industrial manufacturing processes.
A combination of applied and basic research
Applied research is driven forward in well-established academic and industry partnerships and complements first-rate basic research in the field of method or material development, for example, with research also carried out in long-term projects in a national and international alliance.
The researchers leverage the state-of-the-art infrastructure of the ILH and PIAF/DMRC in Paderborn and are part of an extensive research network.
Interdisciplinary research institutions
The aim of the ILH is to take a holistic view of lightweight design and to look at issues relating to the entire lifecycle of a component. Outstanding expertise in additive manufacturing as a special manufacturing process with high lightweight design potential is bundled in the PIAF and DMRC.
Institute for Lightweight Design with Hybrid Systems (ILH)

The ILH is a central research institution of Paderborn University that bundles the expertise of eleven research groups from the disciplines of mechanical engineering, chemistry and physics to develop and research new hybrid systems made from various materials. Applied research gives rise to innovative lightweight design concepts. Prototypes and demos are designed in collaboration with the industry to test feasibility. Basic research is conducted into the cross-scale development of methods and materials.

In hybrid multi-material systems, high-performance materials, such as ultra-high-strength steels, are intelligently combined with carbon-fibre-reinforced polymers (CFRP). The prerequisite for the development of such material compounds is the analysis of material properties and interfaces and of the manufacturing processes with new material structures. To this end, the ILH boasts a broad team of researchers and a state-of-the-art infrastructure.

You can find more information on the institute's webpage: https://ilh.uni-paderborn.de/en/

Paderborn Institute for Additive Manufacturing (PIAF)

The PIAF is a central research institution of Paderborn University that bundles the expertise of the departments of Mechanical Engineering, Chemistry and Computer Science. The aim of the PIAF is to establish additive manufacturing processes as robust industrial manufacturing processes, with the focus on cross-industry innovations that shape the economy and society and that are possible only through transdisciplinary research. The PIAF's research is therefore aimed at the continuous development of innovations through software for products or services, as well as new process engineering solutions for the development or analysis of highly networked production systems. The PIAF's tasks comprise cross-faculty and interdisciplinary research, the transfer of knowledge and technology, training early-career researchers and junior academics and incorporating research results in university teaching and further education in the field of additive manufacturing processes.

The PIAF is an offshoot of the Direct Manufacturing Research Centre (DMRC) industrial consortium and is the university counterpart to the DMRC. The two co-operate to ensure the industrial transfer of research findings. A broad team of researchers at the PIAF/DMRC is working on a modern infrastructure along the entire additive process chain. This infrastructure is in particular state of the art in the field of additive production systems.

You can find more information at: https://dmrc.uni-paderborn.de/

Direct Manufacturing Research Center (DMRC)

The DMRC is a multi-stakeholder organization. Its organizational and contentual setup can be derived from the picture above. The DMRC is founded on five contentual pillars, Laser Sintering, Laser Melting, Fused Deposition Modeling, Construction and Business. Its obvious: we pay attention to the entire process from thinking ahead products of tomorrow to laying the foundations for their manufacturing. In doing so we work close to the technology and to business. From a research perspective, we support the contentual pillars by twelve chairs. Each chair conducts research projects within one or more of these pillars – the crosses in the illustration show the main activities of each chair.

1) Research, Innovation, Education

2) DMRC (großes Netzwerk, auf einander aufbauende Jahresprojekte mit den Industriepartnern, Technologie Unterstützende Forschung)
Selected projects in the research area
Contact
Key research area Sustainable Materials, Processes and Products

Chairman of the Institute for Lightweight Design with Hybrid Systems (ILH)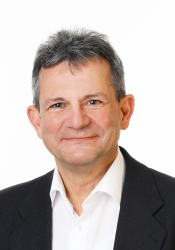 Key research area Sustainable Materials, Processes and Products

Chairman of the Paderborn Institute for Additive Fabrication (PIAF)