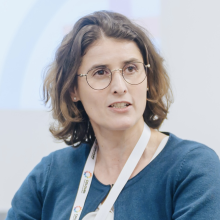 Prof. Dr. Elke Grimminger-Seidensticker
Head - Professor
Head of the Department Exercise & Health
Head - Professor
Head of the Department Exercise & Health
Head - Professor
Head of the Department Exercise & Health
Office Address:

Warburger Str. 132
33100 Paderborn

Room:
Sprechzeiten:
Eine Einsicht in die Klausur "Grundlagen der Sportpädagogik" ist am 6.9.2023 von 11:00 bis 12:00 Uhr in Raum SP 2 0.121 möglich.
Die Termine der Sprechstunde können Sie unter folgendem Link einsehen.
BItte buchen Sie auch unter diesem Link einen Termin in der Sprechstunde.
By using social science research methods, I would like to investigate educational and societal challenges, such as migration, inclusion, digitalization or body shaming, with the aim to professionalize pedagogical actors in the context of sport and physical activity.
Research Interests
School based research, especially studies about students and teachers in physical education
Professionalization of PE teachers for handling diversity in physical education
Professionalization of PE teachers for a critical-reflective media education
Pedagogically-oriented health research
Body dissatisfaction, physical activity and psycho-social developmental risks in children and adolescents
Mixed-methods studies
Video-based studies in physical education
Current Courses
Forschungskolloquium Sportdidaktik und -pädagogik
Didaktik des Sports
Begleitseminar im Fach Sport (HRSGe/G/SP)
Begleitseminar im Fach Sport (GyGe/BK)
Aktuelle Themen der Schulsportdidaktik: Individuelle Förderung im Sportunterricht