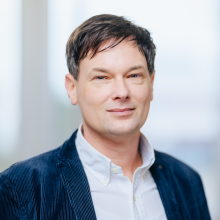 Prof. Dr. Sebastian Rezat
Office Address:

Warburger Str. 100
33098 Paderborn

Room:
Research Interests
Textbook research: Research on mathematics textbooks is one of my main areas of interest. My primary focus is on learners as users of mathematics textbooks. Questions circle around how learners use digital and paper mathematics textbooks, how their use is dependend on the teacher, how it is related to the use of other resources for learning mathematics, and how the use impacts their learning of mathematics. Furthermore, I am also concerned with curricular aspects of textbooks and governance issues.
Language and learning mathematics: In the context of language issues of learning mathematics, my primary interest is in genre-based approaches. A particular focus is on the two genres "explaining" and "word problems". The questions in this context refer primarily to possibilities of fostering the acquisition of these genres in the mathematics classroom.
Another focus in the context of language issues of learning mathematics is on fostering reading mathematical texts, primarily in the field of teacher education. Here, I develop approaches in which subject-specific reading competencies can be fostered using digital technologies. This comprises the theoretical interest in what characterizes mathematics-specific reading competence.
Early Algebra: My specific interest in the area of early algebra lies at the interface with extensions of number systems and algorithmic thinking. The focus here is on the theoretically and empirically-based development of learning opportunities to foster algebraic thinking in these two areas.