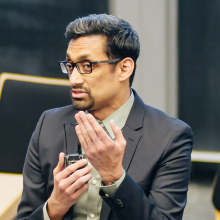 Prof. Dr. Zishan Ghaffar
Professor of Qur'anic Exegesis
Office Address:

Pohlweg 55
33098 Paderborn

Room:
Sprechzeiten:
Ich bin krankheitsbedingt nicht zu erreichen.
Vorsitzender des Zentrums für Komparative Theologie und Kulturwissenschaften (ZeKK)
Curriculum Vitae
Since 12/2020: W3-Professur für Koranexegese am Seminar für Islamische Theologie der Universität Paderborn
03/2020 - 11/2020: Vertretungsprofessor für Koranexegese am Seminar für Islamische Theologie der Universität Paderborn
01/2017 - 02/2020: Wissenschaftlicher Mitarbeiter beim Akademievorhaben Corpus Coranicum der Berlin-Brandenburgischen Akademie der Wissenschaften
10/2012 - 12/2016: Wissenschaftlicher Mitarbeiter am Zentrum für Islamische Theologie in Münster
2012 - 2016: Promotionsstudium (Islamische Theologie) am Zentrum für Islamische Theologie der Wilhelms-Universität in Münster
(Prüfung zum Dr. phil. in Mai 2017 mit summa cum laude bestanden)
2012 - 2016: Kollegiat des Graduiertenkollegs Islamische Theologie in Münster
2008 - 2011: Stipendiat der Friedrich-Ebert-Stiftung
2006 - 2011: Studium der Philosophie, Islamwissenschaft und evangelischen Theologie an der Christian-Albrechts-Universität zu Kiel
(Magisterabschluss mit der Note 1,0)
Research Interests
Klassische Koranexegese (tafsīr)
Historisch-kritische Koranexegese
Koranische Theologie
Prophetenbiographie (sīra)
Der historische Muhammad
Komparative Theologie
Genese und Frühgeschichte des Islam
Das syrische Christentum
Current Courses
Die Figur Abrahams im Koran - ENTFÄLLT -
Vorträge
Vortrag zu "Hermeneutik: Zeitgemäßer Umgang mit heiligen Texten in Islam und Christentum" auf der Tagung der Mühlheimer interreligiösen Dialoge (04.-05.02.13).
Vortrag zu "Erlösung und Offenbarung" auf der Fachtagung "Streitfall Erlösung: Soteriologie im christlich-muslimischen Gespräch" (14.-16.03.2013).
Vortrag zu "Tradition und Traditionskritik im Islam" im Rahmen des Theologischen Forum Christentum - Islam (07.-09.03.2014).
Vortrag zu "Jesus im Rahmen der koranischen Prophetologie" auf einer Fachtagung zur Christologie - "Die Besonderheit Jesu Christi in Islam und Christentum" (20.-22.08.2014).
Vortrag "Zur Hermeneutik Heiliger Schriften" im Rahmen einer Veranstaltungsreihe der katholischen Akademie in Hamburg zur islamischen Theologie im Kontext (18.09.2014).
Vortrag zu "Early Islam and Early Christianity - The Epistemic Notions of historical Epochs in the Study of Religions" auf der Tagung "Aspects of Qurʾānic Scholarship. Philology meets Theology" in Berlin (23.-25.09.2016).
Vortrag zu "Kanon im Kanon? - Herausforderungen einer koranischen Theologie" im Rahmen einer Tagung zur "Normativität Heiliger Schriften in Judentum, Christentum und Islam" in Zürich (30.01.-01.02.2017).
Vortrag zu "The significance of divine mercy in salvation history for the Qur'an and in the theology of Jacob of Serugh" auf der internationalen Tagung "Prospects and challenges of syriac-orthodox theology in Europe" in Paderborn (13.-15.03.2019).
Vortrag zu "Die koranische Verkündigung im Kontext und als Zeugnis der religionsgeschichtlichen Entwicklungen des siebten Jahrhunderts" im Rahmen der Reihe "Collegium Coranicum" in Berlin (01.04.2019).
Vortrag zu: "The Scope and Limits of Prophetical Knowledge in the Qur'an" auf der Fachtagung "Prophetic Knowledge - Figurations of Prophecy and Transfer of Divine Knowledge in Premodern Traditions" (04.11.-06.11.2019)