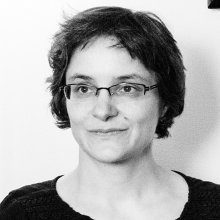 Forschungsschwerpunkte
Interkulturelle Literatur, Komparatistik, Kulturanthropologie, Öko- und Geopoetik // Theater- und Performance-Wissenschaften (insbesondere Klang und Bühne; Musik/Bild/Wort-Beziehungen, Body-Mind-Komplex; Theater & Philosophie) // Lyrik (Poetik, Ethik und Ästhetik) // Übersetzungswissenschaften // Jüdische Studien, Shoah-Forschung // Forschung zu Exil, Diasporakulturen und Migration.
Intercultural Literature, Comparative Literature, Cultural Anthropology, Geohumanities and Ecopoetics // Theatre and Performance Studies // Poetry (Poetics, Ethics and Aesthetics) // Translation Studies // Jewish Studies, Shoah Research; Research on Exile, Diaspora Cultures and Migration.
Vita
Promotion in französischer Theater- und Literaturwissenschaft an der Sorbonne Paris 4, bei Herrn Prof. Denis Guénoun.
Titel der Arbeit:
"Vers une idée de la scénophonie : un parcours à travers Gilles Deleuze et Félix Guattari ainsi que, notamment, Samuel Beckett et Morton Feldman".
Verteidigung der Promotion in Paris am 21. Dezember 2012.
***
Beruflicher Werdegang
Seit 01.02.2018
PostDoc-Stipendium der Universität Paderborn am Lehrstuhl von Herrn Prof. Michael Hofmann.
Forschungsprojekt:
"Paradigmen von Zugehörigkeit – Eine Untersuchung europäisch-iranischer Gegenwartsliteratur mit einem Schwerpunkt auf deutsch-, französisch- und englischsprachigen Texten."
Okt. 2017 - Jan. 2018
DAAD-Rückkehrstipendium nach dem Lektorat im Ausland, durchgeführt am Lehrstuhl von Herrn Prof. Michael Hofmann. Mit einem Forschungsprojekt zur europäisch-iranischen Diasporaliteratur.
Sept. 2014 - Juni 2017
DAAD-Lektorin (Lektorin des Deutschen Akademischen Austauschdienstes) am Lehrstuhl für Deutsche Philologie an der Philologischen Fakultät der Universität Vilnius in Litauen.
WS 2011/12 & SoSe 2012
Lehrauftrag "Kreatives Schreiben" an der Universität Bremen – In Kooperation mit dem Literaturkontor Bremen. Leitung der Literaturwerkstatt Schreiben zwischen Lyrik und Bühne für Studierende aller Fachrichtungen.