Prof. Dr. Sebastian Vogt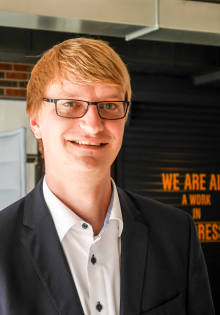 Technologietransfer- & Existenzgründungs-Center (TecUp)
Manager - Honorary Professor - TecUP, das Technologietransfer- & Existenzgründungs-Center der Universität Paderborn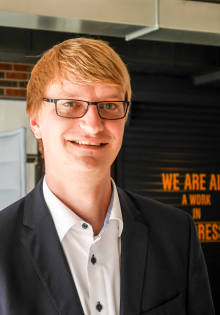 09/2009 - today

Lebenslauf

Dr. Sebastian Vogt studierte Wirtschaftswissenschaften an der Justus-Liebig-Universität (JLU) Gießen und absolvierte sein Doppelstudium als Diplom-Kaufmann sowie als Bachelor of Business Administration. 2015 promovierte er am Fachbereich Wirtschaftswissenschaften der JLU zum Thema "Studies on public participation in Germany - examining present approaches and future developments". Seine Forschungsarbeiten wurden in begutachteten Zeitschriften wie dem International Journal of Public Administration in the Digital Age (IJPADA) oder dem Journal Technological Forecasting and Social Change (TFSC) publiziert.

Als Mitbegründer der im Jahr 2009 aus der JLU Gießen ausgegründeten eOpinio GmbH war Herr Vogt bis 09/2016 als Geschäftsführer bei eOpinio tätig. Bereits in der Gründungsphase erhielt Herr Vogt ein vom Bundesministerium für Wirtschaft und Technologie (BMWi) und dem Europäischen Sozialfonds (ESF) auferlegtes EXIST-Gründerstipendium. Neben seiner Geschäftsführertätigkeit bei der eOpinio GmbH war er Dozent in unterschiedlichen Hochschulen und Institutionen, wie: Der Nano-Entrepreneurship-Akademie (NEnA – BMBF-Aktionsprogramm "Power für Gründerinnen"); Justus-Liebig-Universität Gießen, Professur für Personalmanagement, Mittelstand und Entrepreneurship (Praxisseminar Entrepreneurship); Hessische Hochschule für Polizei und Verwaltung, Fachbereich Verwaltung (E-Government); Justus-Liebig-Universität Gießen, Professur für Marketing und Verkaufsmanagement (Praxisseminar Entrepreneurship); Universität Paderborn, Professur für International Business (Entrepreneurship); Hochschule Ostwestfalen-Lippe (Entrepreneurship).

Im Oktober 2016 wechselte Herr Vogt an die Universität Paderborn. Dort ist er bis heute als Geschäftsführer bei TecUp - dem Technologietransfer- & Existenzgründungs-Center der Universität Paderborn - tätig.

Seit Februar 2019 hat Herr Vogt eine Honorarprofessur für Entrepreneurship am Fachbereich Wirtschaft und Gesundheit der FH-Bielefeld inne.
Beiträge in wissenschaftlichen Zeitschriften

Wagner, S. A., Vogt, S., Kabst, R. (2016) How IT and social change facilitates public participation: A stakeholder-oriented approach. Government Information Quarterly (GIQ), 33 (3), 435 - 443. DOI: 10.1016/j.gip.2016.07.003

Wagner, S. A., Vogt, S., Kabst, R. (2016) The future of public participation: Empirical analysis from the viewpoint of policy-makers. Technological Forecasting and social change (TFSC), (106), 65-73. DOI: 10.1016/j.techfore.2016.02.010

Walther, F., Vogt, S., Kabst, R. (2016). A Strategic Foresight about Future Public Service Developments from the Citizens' Perspective. International Journal of Public Administration in the Digital Age (IJPADA), 3(1), 21-46. DOI: 10.4018/IJPADA.2016010102

Vogt, S., Haas, A. (2015). The future of public participation in Germany: Empirical analyses of administration experts' assessments. Technological Forecasting & Social Change, (98), 157-173. DOI: 10.1016/j.techfore.2015.04.013

Weber, H. I., Vogt, S., Eberz-Weber, L. M., Steinmetz, H., Wagner, S. A., Walther, F., Weber, P., Kabst, R. (2015) Participatory Budgeting: Findings from Germany. International Journal of Public Administration in the Digital Age (IJPADA), 2 (2), 33-53. DOI: 10.4018/ijpada.2015040103

Vogt, S., Förster, B. & Kabst, R. (2014) Social media and e-participation: challenges of social media for managing public projects. International Journal of Public Administration in the Digital Age (IJPADA), 1 (3), 87-107. DOI: 10.4018/ijpada.2014070105

Buchkapitel und sonstige Publikationen

Weber, H. I., Vogt, S., Eberz-Weber, L., Steinmetz, H., Wagner, S. A., Walther, F., Weber, P., & Kabst, R. (2019). Participatory Budgeting: Findings From Germany. In Management Association, I. (Ed.), Civic Engagement and Politics: Concepts, Methodologies, Tools, and Applications (pp. 1087-1107). IGI Global. http://doi:10.4018/978-1-5225-7669-3.ch054

Studies on public participation in Germany - Examining present approaches and future developments Vogt, S. (2015). Inaugural-Dissertation zur Erlangung des Doktorgrades (Dr. rer. pol.) des Fachbereichs Wirtschaftswissenschaften der Justus-Liebig-Universität Gießen