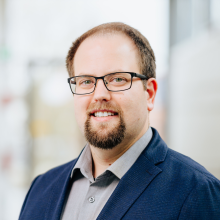 Office Address:

Warburger Str. 100
33098 Paderborn

Room:
Curriculum Vitae
Since 12/2021: Head of Laboratories and Scientific Infrastructure
In the international "Photonic Quantum Systems Laboratory" (PhoQS Lab), scientists from experimental and theoretical physics, electrical engineering, computer science and mathematics work together in a building with the most modern technological infrastructure, in order to develop technology for photon-based quantum applications as well as in the theoretical and experimental concept development of a scalable quantum photonics fundamentally oriented new research approaches.
The research building provides the necessary infrastructure for this. State-of-the-art micro and nano technology processes enable the realization of miniaturized, integrated optical quantum circuits and quantum components. Manufacturing and characterization techniques are set up, further developed and made "quantum-capable"; high-quality quantum optics laboratories support the exploration of fundamental physical limits of quantum mechanics.
11/2013 - 03/2019: Doctoral thesis
Periodically Poled Waveguides in Potassium Titanyl Phosphate: From Technology Development to Applications
10/2011 - 10/2013: M.Sc. in Physics
Periodically Poled Waveguides in Potassium Titanyl Phosphate for Applications in Quantum Optics
10/2008 - 09/2011: B.Sc. in Physics
Untersuchung der Polungseigenschaften von oberflächennah Ti-diffusionsdotiertem, kongruentem Lithiumniobat
Current Courses
Experimentalphysik I Übung
Experimentalphysik I