Two student teachers awarded German scholarships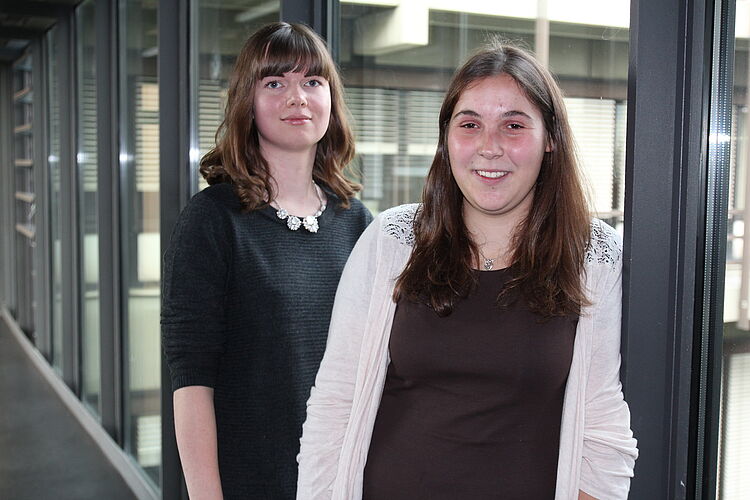 The Universitätsgesellschaft Paderborn - together with the Stiftung Studienfonds OWL - has once again awarded German scholarships this winter semester. The two student teachers Anna Dellori and Sarah Bülling are the current scholarship holders of the University Society and will be able to concentrate even more intensively on their studies in the future. Starting in the winter semester 2016/17, they will receive funding of 300 euros per month for two semesters.
We introduce you to the scholarship holders...
Anna Dellori
She likes to find solutions - that was already the case at school. That's why the natural sciences are so interesting to her. Anna Dellori has been studying maths and chemistry at Paderborn University for three semesters. She quickly decided on Paderborn University in the summer of 2015 - the new chemistry labs tipped the scales at the time. In addition to her studies, Anna Dellori works in her hometown of Winterberg as an exercise instructor for ski groups and goes to camps as a counsellor during the holidays. The Deutschlandstipedium enables her to finance her studies without having to take on a part-time job.
Sarah Bülling
In her free time, she supervises a children's sports group and goes on holiday camps as a counsellor. The contact with the children showed her that she wanted to become a teacher. "I really enjoy working with children. You can also work on a lot of things together outside of school," she says. She completed her Bachelor's degree in primary school teaching (maths, German and science) in regular time and is currently doing similarly well in her Master's degree. After graduation, she says, she wants to be the best teacher she can be. After gaining insights into empirical research during the last winter semester, Sarah Bülling can also imagine a university career in the long term.
Paderborn University Society and the OWL Study Fund Foundation for the OWL Region
The Foundation Study Fund OWL is a cooperation project of the five universities in East Westphalia-Lippe that is unique in Germany. The foundation aims to provide sustainable support for students in East Westphalia-Lippe and to build up a network between sponsors and sponsored students in order to strengthen OWL as a university and business location in the long term. The University Society has been supporting these goals for four years now. To date, a total of ten scholarships have been awarded to students.
Thanks to the University Society
A heartfelt thank you goes to all members of the University Society, whose commitment has made it possible to support these two gifted students.